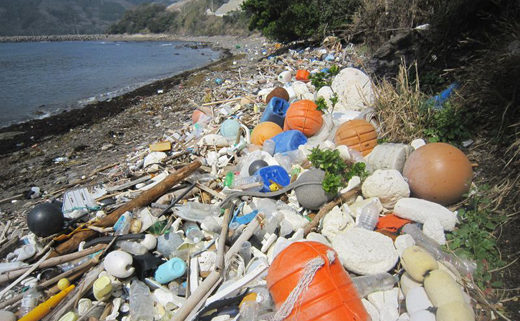 Photo by Hareyuki Yamaguchi
We have previously shared the story of Dutch entrepreneur Boyan Slat's plans to rid the ocean of plastic waste. Now, the 20-year-old student and CEO of The Ocean Clean-up has revealed that he will begin the journey to make his plans a reality. Speaking at the Seoul Digital Forum in South Korea, Asia's largest technology conference, he explained that his design to capture plastic waste 'passively' by harnessing the power of tidal currents, will be deployed in 2016.
The likely location for the 'clean-up' array will be off the coast of Tsushima, an island located in the waters between Japan and South Korea. The feasibility of this location is currently being researched. The array will span 2000m, thereby becoming the longest floating structure ever deployed in the ocean (beating the current record of 1000m held by the Tokyo Mega-Float). It will be in operation for at least two years.
Meanwhile, engineers at Tsushima Island are evaluating whether the plastic could be used as an alternative energy source. Approximately one cubic metre of plastic pollution per person is washed up each year on the island, which has prompted the Japanese government to seek innovative solutions.
Should the venture prove successful, The Ocean Clean-up will deploy arrays of increasing scale around the world. Within five years, it aims to implement a 100km-long system to clean up half of the Great Pacific Garbage Patch, between Hawaii and California.
In other ocean plastic news, it is reported that sportswear giant Adidas plans to follow in the footsteps of G-STAR Raw by using yarn derived from ocean plastic waste as raw materials for clothing and potentially footwear. It will collaborate with innovation group Parley from 2016 to develop suitable fibres.
New interactive map shows extent of ocean plastic waste
There are five trillion pieces of plastic floating in the ocean, according to a consortium of 12 research institutions. This 'plastic smog' covering the surface of the oceans has a combined weight of nearly 300,000 tonnes, the equivalent of approximately 1,500 blue whales. You can now see were the concentration of plastic is heaviest via a new map published by Popular Science.
The two oceans of the Northern Hemisphere contain 56% of all floating plastic particles and 57% of the total weight. In the Southern Hemisphere, the Indian Ocean contains 1.3 trillion pieces of plastic, a greater particle count and weight than the South Atlantic and South Pacific oceans combined. By combining coastal population figures with plastic consumption and waste management data, scientists have concluded that the majority of the waste has emanated from China.
https://mbapolymers.com/wp-content/uploads/2015/06/ocean-plastic-hareyuki-yamaguchi.jpg
390
520
MBA Polymers
https://mbapolymers.com/wp-content/uploads/2017/12/MBAPolymers-logo-720.png
MBA Polymers
2015-06-01 09:31:22
2017-12-10 11:28:33
World's first ocean 'clean-up' system to launch in 2016