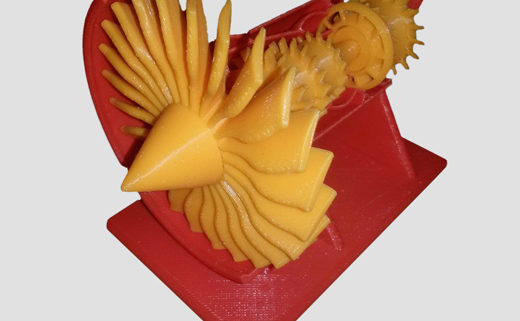 Pioneering tech start-up ObjectForm has just won a prestigious Plastics Industry Award for its 100% recycled ABS 3D printing filament and is gearing up to develop more new recycled plastic filaments under its Fila-CYCLE brand. The award win follows hot on the heels of positive feedback already received from the Innovate UK Board, a UK government initiative to support talented technology start-ups.
Here, we explore the company's journey to date and ask one of its founders, Scott Knowles, why he is confident in the future of recycled plastic 3D printing filament.
The meteoric rise of 3D printing
The global 3D printer market is expected be worth $13.4bn by 2018, according to technology research firm Gartner. Worldwide shipments of 3D printers are set to double this year, reaching 217,350 units, up from 108,151 in 2014, and will continue to double every year for the next three years, the company predicts, reaching more than 2.3m units by 2018.
In particular, rapid prototyping – creating scale models of individual parts or whole products using 3D computer-aided design (CAD) data – is thriving, helping to streamline the process of designing of prototypes.
"3D printing is being used everywhere – in industry, in schools and colleges, and at home – it's really taking off," says Knowles. "It gives people the opportunity to be creative and helps to bring innovations to life more rapidly."
Flying the flag for sustainability in an infant industry
Having researched the 3D printing market for several years, Knowles and his co-founders Chris Simpson and Stephan Hollingshead established ObjectForm in 2014 as a 3D design, printing and consultancy business. Founding a new company in a young industry, they wanted to take a responsible approach from the start.
"The 3D printing process requires a lot of plastic, and with the global 3D printing market expected to rocket, the demand for input material will only continue to grow," explains Knowles. "We realised that something had to be done now – particularly given the global instability of oil – and set out to create a more sustainable filament."
Determined not be dependent on a product derived from a finite natural resource, the ObjectForm team researched the recycled plastic market, seeking a company that could produce a recycled material in line with their requirements. MBA Polymers' recycled ABS plastic fit the bill, offering the same level of performance as virgin ABS plastic. ObjectForm also purchased a small extruder in order to create spools of filament (1.7mm in diameter) from MBA's recycled plastic pellets at its Sheffield site. The result was Fila-CYCLE, a 100% recycled filament offering.
"We're one of the first 3D printing companies to launch a 100% recycled filament brand," explains Knowles. "We're helping to raise the bar for sustainability in 3D printing – to show a positive way ahead for an infant industry."
Good for business and the environment
By replacing virgin ABS plastic with recycled ABS, ObjectForm is helping to conserve natural resources and divert waste from landfill while boosting the environmental credentials of its Fila-CYCLE brand. Sourcing recycled plastic locally instead of purchasing virgin plastic imported from China also saves carbon emissions and supports the UK's domestic recycling industry, helping to accelerate the transition to a circular economy.
Importantly, the 100% recycled Fila-CYCLE brand is popular with ObjectForm's customers. Customers rate the product highly for consistency and performance, particularly for rapid prototyping, regularly giving it score of 5/5. Business customers are glad to be offered a more sustainable material, thereby improving their own reputations, while the material is also popular with architects, Knowles explains. Having launched a high quality recycled filament offering in a short space of time, ObjectForm is now seeking crowd-funding to develop more 100% recycled plastic filaments to add to is now award-winning Fila-CYCLE brand.
To read more about Objectform's services and its Fila-CYCLE filament, please click here.
https://mbapolymers.com/wp-content/uploads/2015/08/objectform.jpg
410
520
MBA Polymers
https://mbapolymers.com/wp-content/uploads/2017/12/MBAPolymers-logo-720.png
MBA Polymers
2015-08-17 15:53:04
2017-12-10 11:28:33
Objectform: Raising the bar for sustainability in the 3D printing industry