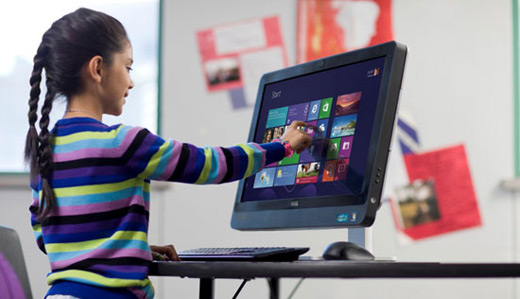 Technology giant Dell has become the first computer manufacturer to launch a PC made partly of third-party certified 'closed loop' plastics. The computer's Underwriters Laboratories (UL) certification verifies that the Dell OptiPlex 3030 All-in-One, launched in June 2014, comprises at least 10% closed loop post-consumer recycled plastics in its chassis enclosure.
By using plastic from recycled electronics in the new OptiPlex machine, Dell is making a carbon saving of 11% compared with a similar product made with virgin plastics, the company says. It plans to use this approach as a blueprint for reusing metals and other materials, as it works towards its goal of using 50 million pounds of recycled plastic and other sustainable materials in its products by 2020, helping to create a circular economy for IT.
"By moving to close the loop on plastics in computers, Dell is helping to reduce e-waste, save resources and prevent further plastic pollution," says Nigel Hunton, MBA's CEO. "Integrating its take-back programme with its 'closed loop' manufacturing supply chain should make the solution even more efficient, ensuring materials in end-of-life machines can be used again in new products."
Starting next year, more Dell laptops, desktops and monitor back-panels will be made using recycled plastic, according to PC Advisor magazine. These products will also be certified by UL. Dell will save money by reusing plastic, PC Advisor reports, adding that the company has not confirmed whether the savings will be passed on to consumers.
Dell is also introducing carbon-negative packaging through a partnership with Newlight Technologies, the company behind 'AirCarbon', a plastic made using air and greenhouse gases. The AirCarbon packaging will be used to package Dell Latitude series notebooks, initially in the US, with plans to extend this worldwide.
Commenting on the news, Dell CEO Michael Dell said: "We have a long-standing commitment to conduct our business responsibly. AirCarbon packaging and closed loop recycled plastics are terrific innovations and big steps forward as we work with our customers and partners towards our 2020 goals."
To learn more about how MBA Polymers could work with your company to help 'close the loop' with quality recycled plastic for your products, please contact us.
https://mbapolymers.com/wp-content/uploads/2014/07/dell-optiplex-girl.jpg
299
520
MBA Polymers
https://mbapolymers.com/wp-content/uploads/2017/12/MBAPolymers-logo-720.png
MBA Polymers
2014-07-22 14:17:15
2017-12-10 11:28:38
Dell launches first 'closed loop' computer with recycled plastics