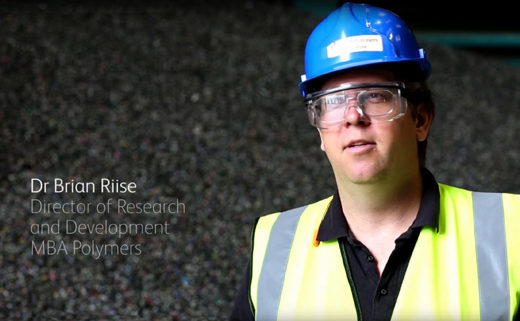 1. Could you describe your role and responsibilities at MBA Polymers?
Since coming to MBA Polymers over 18 years ago, my main focus has been on developing high quality products suitable for a broad range of customers. This has included developing novel separation processes as well as formulations with suitable additives. My role has more recently expanded to providing technical and marketing support to our manufacturing plants. I give guidance on operating separation and compounding equipment, and ensuring reliability of product testing, as well as supporting technical sales, and presenting at conferences. Over the past decade, I have also been responsible for managing MBA Polymers' intellectual property, including our patent portfolio and protection of trade secrets.
2. How does MBA work with its customers to tailor the characteristics of their products?
The first step is to make sure the customer is seeking one of the plastics we produce. We then determine the customer's requirements in terms of price, colour, mechanical properties, thermal properties, flammability etc. We compare their requirements with our base material's properties, and use our knowledge of additives and processes to assess the technical and economic feasibility of developing a suitable product. If the development is feasible, we produce a 'developmental' grade (or grades) for the customer to test. In some cases, this means collaborating with customers over several months to provide a grade that meets all their requirements.
3. Could you share an example?
One customer required a polypropylene product that was dark grey in colour, had a high melt flow rate and had to pass various mechanical tests including drop tests and creep resistance. We drew on our extensive experience of fine-tuning our products' characteristics to control the melt flow rate and use of additives, producing the right colour and improving the creep resistance.
4. What plastics recycling challenges do you face and how are you working to overcome them?
One of the biggest product quality challenges is limiting the volume of non-melting contaminants in the final product. We can eliminate the vast majority, but there are sometimes tiny specks that end up in the products. We take steps to ensure that our separation equipment is in order, and work with engineers and operators at each of our facilities to make sure they are operating the equipment correctly.
5. What are your ambitions for the business?
With customers increasingly keen to order more recycled plastics, in line with their circular economy or sustainability targets, there is a huge opportunity for expanding the business. In order to meet customer demands, we will continue developing new sources of raw material for recycling. We will improve our product quality, expand the range of plastics we recover (as we have already done with PC/ABS), and strengthen our ability to provide high level technical support to our customers.
https://mbapolymers.com/wp-content/uploads/2016/12/dr_brian_riise.jpg
324
520
MBA Polymers
https://mbapolymers.com/wp-content/uploads/2017/12/MBAPolymers-logo-720.png
MBA Polymers
2016-12-06 17:38:18
2017-12-10 11:28:32
Five minutes with Brian Riise, MBA's Director of Research and Development...