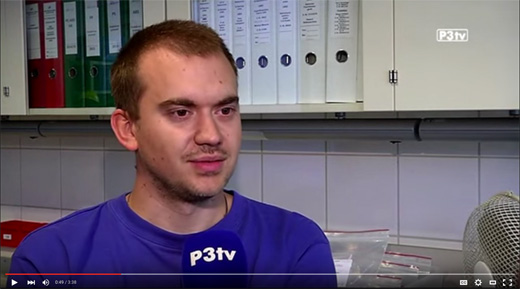 This month, we speak with Kristof van Mieghem, a production operative and deputy shift supervisor at MBA Polymers Austria, the JV plant we operate with Müller-Guttenbrunn. Kristof has worked with us for three years. Here, he gives an insight into the complex technical processes we use to create high quality recycled plastic from electronic waste, and what it means to contribute to a company making a positive difference in the world.
Could you describe your role in detail?
I'm working on two major production processes – our high tech separation system and the extrusion of recycled plastics. I spend most of my time on the separation process, whereby the cleaned and shredded plastic flakes derived from e-waste are sorted into pure polymer flakes. Once separated, these flakes are melted into thin strands and cut into 3mm pellets. Knowing that our customers use these purified and extruded plastic pellets for the production of low carbon vacuum cleaners or coffee machines makes me feel proud.
So your work sounds technically very interesting?
Absolutely. It is often difficult for outsiders to comprehend how everything works. It's a great technological feat to be able to make a new material from complex waste streams. Some of the recycled material goes through five different installations, some of which are three floors high. It's fascinating to learn how materials can be recycled in the Müller-Guttenbrunn Group. An old electrical appliance could be recycled almost entirely into secondary raw materials for new products, for example.
How do you find working shifts?
I work four days and then have four days off. By working shifts, we are able to keep the factory in operation 24 hours, seven days a week. We only stop production for a short time at Christmas. As with anything, shift work has pros and cons, but I'm happy, as as I have four days with my family and time to dedicate to my work as a paramedic with the Red Cross.
What do you like best about your job?
Since the waste material we process is never quite the same, you always have to find new and creative solutions. It has a lot to do with understanding how to adjust the machines during operation to achieve optimum performance. This means I have constant variety in my work, and I learn something new every day.
It sounds as though contributing to the company's goal of recovering raw materials from waste is rewarding work?
Yes, indeed. In addition to knowing that the recycled plastic is used in new products, we're also preventing waste from being sent to landfill, incinerated or deposited in the ocean. Just imagine, at MBA Polymers Austria, we process more than 100 tonnes of waste material every day. For me, this is a significant contribution to making the world a better place. We save 4.5 tonnes of CO2 per tonne of recycled plastics, which is huge when you consider that we only need to produce two tonnes of plastic to save the equivalent amount of CO2 emitted by an Austrian citizen annually. Our production process also uses less than 20% of the energy used to create virgin plastic.
To hear Kristof speaking to Austria's P3TV about his work at MBA Polymers (in German), please click here. To read more about our JV with Müller-Guttenbrunn, please click here.
https://mbapolymers.com/wp-content/uploads/2015/11/kristof-van-mieghem-p3tv.jpg
289
520
MBA Polymers
https://mbapolymers.com/wp-content/uploads/2017/12/MBAPolymers-logo-720.png
MBA Polymers
2015-11-10 16:22:36
2017-12-10 11:28:33
Five minutes with... Kristof van Mieghem, Production Operative at MBA Polymers' Austria plant