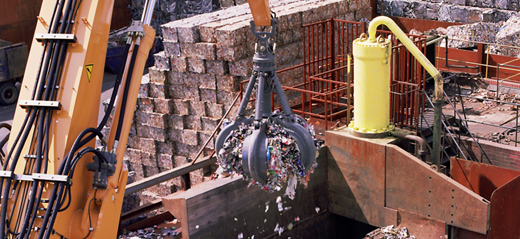 Our joint venture partner EMR is a prime example of another successful recycling pioneer. With heritage dating back to the 1940s, the company now employs 3,500 people and operates at 150 locations worldwide. Its core business is recycling scrap metal from sources such as end-of-life vehicles, consumer products and industrial, construction and demolition waste, with sales of ten million tonnes of recycled raw materials annually (spanning 100 grades of recycled metals).
The company invests in advanced plants and equipment, with a view to maximising operational efficiency and attaining the highest possible recycling rates. Consequently, it is well on the way to becoming the first company in its sector to achieve 'zero waste' status.
EMR and MBA Polymers invested in their joint venture Worksop facility in 2010. Since then, the company has supplied us with high quality shredder residue from end-of-life vehicles. EMR removes the battery, wheels and other hazardous vehicle parts before removing all operating fluids with purpose-built de-pollution rigs. It then shreds the remaining ferrous, non-ferrous and waste electrical equipment using vast shredding machines that can recycle a car every 15 seconds – giving a processing rate of up to 5000 cars each day.
"Metal recycling has been thriving in the UK for some time but has often been cast into the shadows, as the media tends to focus on the more tangible topic of household waste," says Graeme Carus, Business Development Director, EMR. "However, it plays a vital role in preserving valuable resources and in diverting waste from landfill. Some two million UK vehicles are classed as 'end-of-life' each year, so recycling these vehicles effectively is essential if we are to close the loop on vehicle waste."
"Our partnership with EMR is important," comments Nigel Hunton, CEO, MBA Polymers. "It ensures we receive a steady stream of high quality shredder residue to our Worksop plant, which in turn boosts the volume of secondary raw materials we can sell and keeps more end-of-life vehicle materials in use for longer."
UK: Potential world leader in recycling
The UK could be a world leader in recycling, Carus believes. Firstly, being a small, densely populated island, a lot of post consumer material can be 'mined' in a limited geographical area. Secondly, European directives (WEEE and ELV initiatives) and the UK Landfill Tax (which stands at £72 per tonne and will rise to £80 per tonne in April 2014), provide additional stimuli for change. Investors are gaining confidence in recycling infrastructure projects, Carus explains, now that Landfill Tax stands at more than ten times the original 1996 rate of £7 per tonne.
Technology is also advancing apace, enhancing automated separation methods with modern colour sorting systems, high powered magnets, density separation and electrostatics. The final piece in the jigsaw will come from the use of advanced thermal recovery processes to turn the residual non-recyclable fractions into energy. EMR is currently building a thermal recovery facility in the West Midlands. All of this activity is creating jobs. Meanwhile, the business world is showing a genuine interest and increased urgency in stepping up efforts on recycling, as sustainable business discussions continue.
However, despite the technological advances and regulatory incentives, competing for space with other land needs is a real challenge, Doing more recycling means more space is required. Recycling facilities are often located on the outskirts of urban areas, Carus explains, which is exactly where new residential and light commercial development is taking place, as heavier industry drops away. Being located close to residential areas can lead to conflict over noise levels or operating hours.
"The reality is that if we are to increase the volume of waste recycled in the UK, we need more sites and waste handling facilities to do it," says Carus. I would like to see a more balanced approach to planning control with local and regional waste management plans based on accurately assessed need. It's also important to ensure that new developments respect the existing character of an area."
MBA recently met with Vince Cable, UK Secretary of State for the Department of Business, Innovation and Skills to discuss how to catalyse the UK recycling market. Reducing the barriers to obtaining planning permission and creating more economic incentives were among the topics covered. We'll keep you posted on any developments.
https://mbapolymers.com/wp-content/uploads/2013/09/news_emr.jpg
239
520
MBA Polymers
https://mbapolymers.com/wp-content/uploads/2017/12/MBAPolymers-logo-720.png
MBA Polymers
2013-09-03 15:18:19
2017-12-10 11:28:31
EMR: leading the way in scrap metal recycling