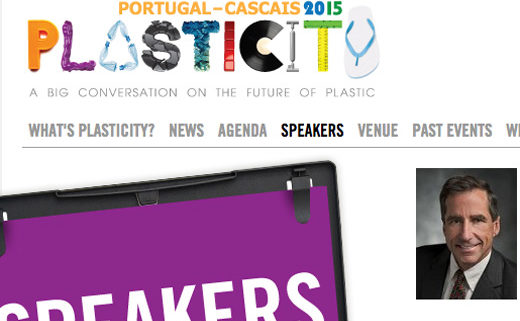 MBA Polymers' founder Mike Biddle is set to speak at the upcoming Plasticity Forum in Portugal on 8th June 2015. He will address the topic of 'Untangling systems for streamlined material flow'. Mike will join a distinguished speaker line-up including Jeff Wooster, global sustainability leader of the Dow Chemical Company, Willem de Vos, CEO of the Society of Plastics Engineers, and Andrew Morlet, chief executive of the Ellen MacArthur Foundation.
The Plasticity Forum unites decision makers, innovators, brands, international associations and policy makers in a collective discussion on the future of plastic. In particular, the event is a great opportunity for creative thinking on how best to embrace the business opportunities presented by innovative materials, smarter packaging and product designs, waste reduction and harnessing plastic waste as a resource.
This year's Plasticity will take cover four major strands: designing for circularity, customer engagement, reverse supply chains and reaching scale. The forum is part of a global series of events in Portugal, encompassing the Economist's World Ocean Summit and Portugal's Blue Week, focussing on innovating to protect the oceans and catalyse socio-economic benefits by adopting more sustainable business practices.
"Plastic doesn't need to be a problem," says Doug Woodring, Founder of Plasticity. "There are solutions out there to stop it from becoming waste, but we're not focussing on them in a scalable manner. The aim of Plasticity is to show who's already doing it, how you can do it, and how to commercialise it for the betterment of business, the environment and our communities."
Now in its fourth year, the Plasticity Forum was originally launched at the Rio+20 Earth Summit in Rio de Janeiro to help elevate the discussion around plastic pollution at major environmental events. For a full round-up of this year's agenda, please click here.
https://mbapolymers.com/wp-content/uploads/2015/05/plasticity-2015.jpg
366
520
MBA Polymers
https://mbapolymers.com/wp-content/uploads/2017/12/MBAPolymers-logo-720.png
MBA Polymers
2015-05-21 09:39:04
2017-12-10 11:28:34
Mike Biddle set to speak at Plasticity Forum in Portugal