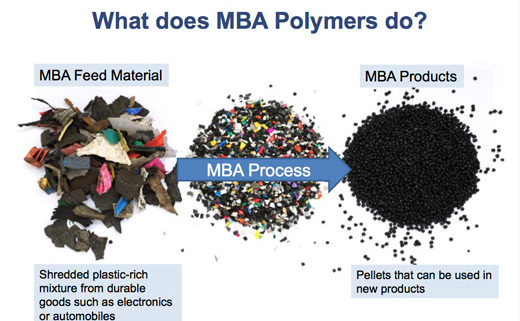 Our R&D Director, Dr Brian Riise, gave delegates at Plastics in Motion – an auto industry event exploring advances in plastics – a clear insight into how MBA creates value from plastic waste derived from end-of-life vehicles. Speaking at this year's event, held in Dearborn, Michigan, Brian presented a paper entitled 'Plastics from Shredded End-of-Life Vehicles' (co-authored with fellow MBA colleagues Peter Mackrell, Ron Rau and Ibrahim Patel). The paper follows on from a workshop on automotive shredder residue (ASR) plastics recycling presented by MBA at the 2008 Plastics in Motion in Prague.
Brian covered MBA's journey from Mike's initial research into separating plastic polymers in 1992 to the global organisation we are today, processing 175,000 tonnes of feedstock each year. He highlighted the scale of the ASR plastics recycling opportunity in the US, with up to 15m end-of-life vehicles (ELVs) recycled annually, and approx.150kg of plastic per car (equating to 2m tonnes of plastic per year). After all the reusable parts have been extracted from US ELVs, toxic fluids and batteries have been removed, and ferrous and non-ferrous metals separated, the plastic remains – and is often simply landfilled. The recycling industry estimates that 1.6m of these plastics could be reclaimed annually, he explained.
The environmental benefits of recovering plastics from ASR in the US would be significant. It would save energy equivalent to 28.5 barrels of oil (compared to producing virgin plastic), prevent up to 5.25m tonnes of CO2 from being released and save nearly 40bn gallons of water. It would also save 52.5m cubic yards of landfill space.
However, there are currently some barriers to recycling ASR plastics at scale in the US, Brian explained. Firstly, it has only been possible from a regulatory standpoint for a short period of time. Additionally, more investment is needed, particularly in the technology needed to create high quality secondary raw materials.
He covered MBA's recycling process, which begins with removing any non-plastics, then separating different plastic polymers. The next stages are purification and blending, then extrusion, vacuum de-gassing and melt-filtration before finally testing MBA's five recycled plastics (PP and filled PP, HDPE, HIPS and ABS) to ISO standards (all our products also comply with key European regulations: RoHS and REACH). Products made from MBA's plastics range from flower pots to automotive parts to coffee machines.
Brian finished by sharing MBA's efforts to continuously improve its processes and products, and outlined the need for industry to design plastic products with recyclability in mind. Overall, although the talk was well attended, Brian noted that there's a need to create more awareness among the automotive industry generally about the opportunities to prevent waste and create closed loop systems by recycling plastic from ASR.
Some 120 scientists and engineers from across the automotive and plastics industries attended, as well as academics and materials specialists. The three-day conference featured technical and commercial sessions covering areas such as light-weighting of automotive components, novel processing and manufacturing techniques, new plastic materials, advances in structural composites, and the environmental implications of plastics in cars.
For more information on how MBA Polymers transforms plastic waste (from waste derived from ELVs, electronics, construction and more) into valuable raw materials, please visit our website.
Thanks go to Robert Damuth of Nathan Associates Inc for the recycling volumes and benefits figures from his paper Economic Impacts and Environmental Benefits of Separating, Sorting, Processing, and Recycling Plastics in the Automobile and Appliance Shredder Aggregate (December 2010.)
https://mbapolymers.com/wp-content/uploads/2015/08/plastics-in-motion-slide.jpg
391
520
MBA Polymers
https://mbapolymers.com/wp-content/uploads/2017/12/MBAPolymers-logo-720.png
MBA Polymers
2015-08-17 15:58:20
2017-12-10 11:28:33
MBA Polymers' R&D Director speaks at Plastics in Motion