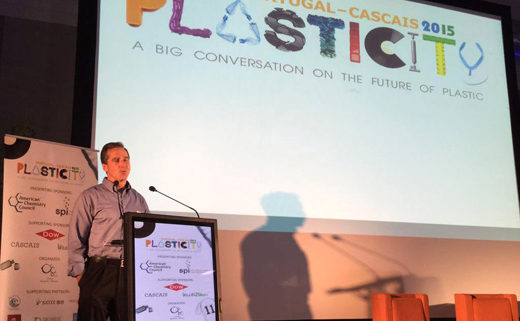 Our founder Mike Biddle once again took to the stage at the Plasticity Forum this year. Speaking with his trademark enthusiasm and infectious energy, Mike shared MBA's impressive carbon emissions savings with a packed room of plastics industry professionals, business leaders, academics and government officials in Cascais, Portugal.
Through his presentation, 'Untangling systems for streamlined material flow', Mike explained that replacing virgin plastic with MBA's recycled plastic generates carbon savings of approximately 150,000 tonnes per year. This is due to the fact that it takes 80% less energy to produce MBA's recycled plastic versus virgin plastic, and equates to savings per employee of about 500 tonnes annually.
Mike compared these savings with those generated by other industries such as packaging and logistics (1 tonne of CO2e per employee annually), and other companies such as Coca-Cola Enterprises (2 tonnes of CO2e per employee annually), highlighting the significant difference in carbon savings that we're achieving.
"We aim to create a sustainable future for plastic, and cutting carbon emissions is just part of that," explains Mike. "We're helping to keep plastic out of landfills and away from the oceans, and contributing to the creation of a circular economy where materials are kept in use for longer, conserving natural resources."
Forging creative dialogues
Throughout the two-day event, delegates engaged in creative discussions on embracing the business opportunities presented by innovative materials, smarter packaging and product designs, waste reduction and harnessing plastic waste as a resource. This year's event covered four major strands: designing for circularity, customer engagement, reverse supply chains and reaching scale.
Mike joined a distinguished speaker line-up including Jeff Wooster, global sustainability leader of the Dow Chemical Company, Willem de Vos, CEO of the Society of Plastics Engineers, and Andrew Morlet, chief executive of the Ellen MacArthur Foundation.
The keynote address, delivered by Morlet, focused on scaling collectively for the circular economy. The Foundation has just launched a new report entitled 'Growth within: A circular economy vision for a competitive Europe', which suggests that a circular economy could allow Europe to grow its resource productivity by up to 3% annually, generating benefits of up to €1.8tn per year by 2030.
Delegates also heard about a new 'plastic-to-fuel' report produced by the Ocean Recovery Alliance and the American Chemistry Council. The report claims that plastic-to-fuel technologies stand to deliver economic and environmental benefits to communities worldwide. Also on the agenda was designing plastic bottles that can be up-scaled into roof tiles in developing communities, making building bricks from hard-to-recycle plastic waste and cultivating plastic from algae in the fish farming industry.
Andrew Russell, Director of the Plastic Disclosure Project (PDP), spoke about plastic reporting as a tool for driving circularity. Together with UNEP and Trucost, the PDP launched a report in 2014 encouraging businesses to convert plastic risk into opportunity by reducing their plastic footprints and helping to prevent the estimated $13bn of environmental damage caused annually by ocean plastic waste.
Commenting on the Plasticity Forum, Russell said: "The mandate for Plasticity to envision and create a sustainable future for plastics – where material is maintained as a resource after its initial use – is a huge challenge, but one which people at this event are actively addressing, and that is exciting."
"I continue to be impressed with the level of creativity and energy brought to the 'big discussion on the future of plastics' by my colleagues – old and new – and I look forward to working on developing solutions that will enable plastic to realise its full sustainability potential," Mike added.
This year's Plasticity Forum took place alongside the Economist's World Ocean Summit and Portugal's Blue Week. Now in its fourth year, Plasticity Forum was launched at the Rio+20 Earth Summit in Rio de Janeiro and assembles a dynamic cross-section of thinkers in a collective discussion on innovating to create a sustainable future for plastic.
https://mbapolymers.com/wp-content/uploads/2015/08/mike-biddle-plasticity-2.jpg
390
520
MBA Polymers
https://mbapolymers.com/wp-content/uploads/2017/12/MBAPolymers-logo-720.png
MBA Polymers
2015-08-17 15:53:59
2017-12-10 11:28:33
Mike Biddle shares MBA's impressive carbon savings at Plasticity